Liquid error (templates/page.repair line 1): Error in tag 'section' - 'repair-banner' is not a valid section type
CASE RESTORATION AND REPAIRS
We can provide a professional polish and finishing to original factory specifications. It is not as easy as a simple buff on the polishing wheel. Normal polishing on the buffing machine creates a rounded edge on sharp corners, our polishing technical has special tooling that can bring back the already burred edges to a crisp edge.Technically speaking we are reshaping the case. Please refer to the below overview for our case services:
Full Polish
Gold Plating
Case Back Teeth Restoration
Case Rethreading (case back and crown tube)
Case Restoration
Dent Removal
Laser Welding
Reshaping
Repair Broken Lugs


Daytona Example
This Daytona owner living in Canada had his watch run over by a car. As shown below, the bezel and the top left lug was badly severed.
Luckily the damage did not affect the engravings on the bezel so we had been successfully in laser repairing the bezel and the lug. We only had to replace with a new crown.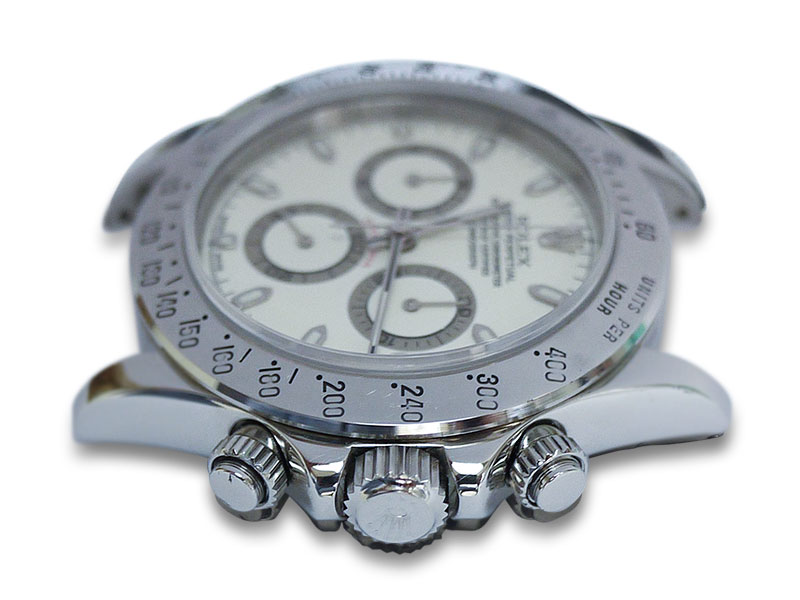 Reshaping
In many vintage watches, the case is subjected to numerous times of polishing resulting in severe deformation in the shape and in a lot of cases sharpening of the lugs. By laser welding extra material on the case and then sanding back to shape we are able to restore the former shape of the watch case.
Rebuild broken Lugs
In the extreme cases of restoration, we can rebuild broken parts of a watch case. This example shows two lugs are broken off the 9k gold watch case. A new pair of lugs are custom made and then welded back on the case and then filed to shape.

As this is all custom work please send us an email with pictures and info at info@rkowatches.com